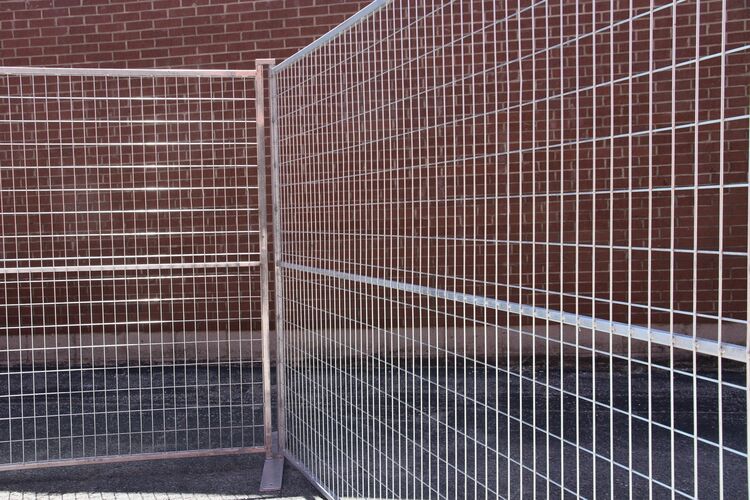 Temporary Fencing New York
Temporary Fencing New York provides fences or gates for business, industrial, and governmental clients. We supply high-quality temporary fencing and panels to secure buildings, schools, airports, parking lots, manufacturing facilities, machinery, jails, solar power plants, and sporting venues.
Purchase Temporary Fencing New York
Purchase options for temporary panels are available from Temporary Fencing New York, including:
Temporary Fencing Panels
As for project sites, an affordable perimeter security option is the temporary fencing solution we offer. This fencing can be set up in sand, soil, or tarmac.
Furthermore, for temporary fences or when in-ground posts are impractical, special event planners often choose fence panels with sturdy panel stands. Fence panels are extremely stable and corrosion-resistant, especially when combined with construction sandbags. View our gallery for Temporary Fencing New York.
Windscreens
This addition, also known as a privacy screen or scrim, blocks the view of individuals outside the construction site. Essentially, this type of fence protects you from wind, which can cause havoc on construction sites.
Gates
By allowing easy entry and exit for people and vehicles, gates can help your project site run more smoothly. A range of sizes is available for our swing and slide gates.
Why Temporary Fencing New York Is Beneficial
Purchasing high-quality temporary fencing offers the following benefits:
Temporary fences New York are a simple technique to restrict public access to a work site or event and provide security.
Selection
Chain link and temporary fencing panels are two of the many fence options that are offered. Additional options include gates, barbed wire, and windscreens.
Savings
By purchasing a temporary fence, you can concentrate on the important components of your project while saving money from National Rent a Fence.
Temporary Fencing Materials
Quality matters. You must cautiously choose the materials for your security fence when it comes to the integrity and safety of your company.
Various fence designs and materials ranging from chain link to ranch and aluminum are available for installation in your area. These designs come in a variety of colors and price points, making them the perfect choice for almost every site in the area.
Temporary Fencing New York offers a variety of services and add-ons to improve the appearance and functionality of our security fences in addition to premium rental panels. A visual barrier into your project or construction site can be created with the use of a windscreen or shade cloth, which can also lower dust levels.
Sandbags or our big Big Foot rubber stands can be used as the base if you decide to put a temporary fence on stands.
As for any type of business you run; we have commercial fencing that will meet your needs for industrial supplies. We provide a wide range of construction and fencing services to help secure areas of any size. Together with you, our knowledgeable staff can choose the best option for your maintenance needs and budget.
USA's Leading Temporary Fence Company
Public and private clients have received perimeter security from the renowned Temporary Fencing New York.
We have had the pleasure of serving clients from a diverse range of businesses, including schools, military locations, and transportation facilities, with industrial security fences in Colorado, Springs.
Regardless of the specifics of your needs, our team of experts is committed to offering you the best possible fences at a cost that is within your budget.
Our intentions have not changed since we first opened our doors. In order to protect our assets, we are dedicated to assisting our clients in limiting and controlling access to our websites.
Modern systems that are skillfully designed and implemented allow owners, designers, and contractors to combine beauty and efficacy to build a secure perimeter at your location.
High-quality Temporary Fencing for Construction Sites
Temporary Fencing New York can build smaller barricades, passageways, and point-to-point fences in addition to temporary, semi-permanent, and permanent fences at all heights and for all gated perimeters.
From fixed panels and sections, posts, and rolls to semi-permanent constructions with in-ground posts and water-filled barricades, temporary fence designs differ widely.
Materials for a temporary fence range from PVC, plastics, and even wood to brightly painted steel that has been powder coated.
Contact Temporary Fencing New York Today!
Temporary fences are the solution when you need to section off portions of your building site or for a special event. Additionally, temporary fencing comes in as many varieties as there are uses for it.
With a variety of temporary fence rentals, our company has years of experience. Let us help you choose the ideal fencing or barriers for your projects, from construction sites to events and add-ons.
Contact one of our account managers today to become one of the many happy customers who have relied on us for their temporary fence needs. We can combine all of your event or construction site rentals into a single, simplified invoice.
Our temporary fence firm is the provider of choice to thousands of clients all across the United States. We take pleasure in providing high-quality goods, first-rate services, and industry-leading lead times.
Furthermore, our temporary fence panels are constructed of pipe that is made in the United States from lightweight, high-strength steel. We provide a variety of services and add-ons to visual barriers in order to improve the appearance and function of our fences.
Looking for privacy fencing? View our composite fencing!